Revitalizer for window frames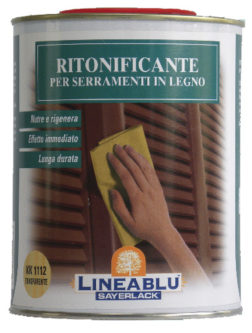 RESTORES THE BEAUTY AND EXTENDS THE LIFE OF THE WOOD
IMMEDIATE EFFECT
This product is specially formulated with selected oils and resins which helps the preservation of the coating, extending its life and beauty. It is excellent for the revitalisation and maintenance of wooden frames.
WHERE TO APPLY: to restore wooden items exposed to the exterior and interior (window frames, fencing and gazeboes).
HOW TO APPLY: by brush/cloth.
ON PREVIOUSLY COATED WOOD: it can be used on both water- and solvent-based coatings. If the wood is free from damage clean the surface using the neutral detergent HH 8011. Rinse with water and leave to dry. Apply HH 8012 using a cotton or linen cloth in a single application, avoiding excessive amounts. 30-60 minutes after application, wipe with a clean cloth to remove any excess amount. The revitalizer leaves a very thin clear film that restores the coating elasticity and appearance. When applied once a year, it extends the life of the coating.
Package: 0,75 L Can – Before ordering the product, please check availability with your sales representative.

Drying Time
Touch dry: 1 hour
Final dry: 6  hours