Top deck waterbased Topcoat for wood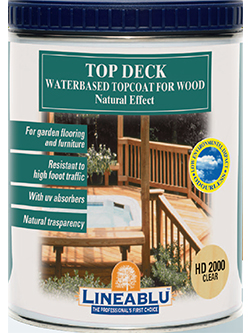 For garden flooring and furniture
Resistant to high foot traffic
With UV absorbers
Natural transparency
Product awarded with the EU Ecolabel
Top Deck waterbased Topcoat for wood is a clear waterbased topcoat for wood containing high resistance Uv filters capable of enhancing the natural look of wood while ensuring high protection from any damaging agents, high foot traffic included. Its wax content provides excellent waterproofing to the coated items.
WHERE TO APPLY: interior and exterior woodworks (flooring, decking, garden furniture, balconies, cottages, terraces, swimming pool edges, gazebos).
ON NEW WOOD: the product can be applied in 2 coats on substrates previously coated with HI20xx, colored version, waterbased wood stains. If necessary, thin from 5 to 10% with water.
PREVIOUSLY COATED WOOD: if the substrates has already been treated with a wood stain, the surface has to be cleaned and sanded with 180 grit sandpaper. Remove the dust then apply 2 coats of HD 2000 topcoat. If the interval between coats is less than 8 hours, intermediate sanding is not required.In case of extraordinary maintenance, the old filme must be removed completely. Then the surface shall be sanded with 150 grit sandpaper and one shall proceed as specified for application on new wood.
Package: 0,75 L – 2,5 L – Cans – Before ordering the product, please check availability with your sales representative.

Drying Time
Touch dry: 1 hour
Interval between coats: 4  hours
Final dry: 6  hours


Tools
synthetic bristle brush/spray