Nitrocellulose basecoat for furniture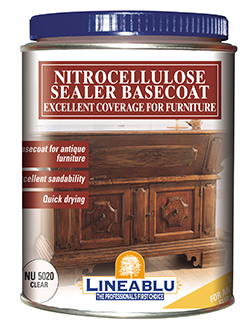 BASECOAT FOR ANTIQUE FURNITURE
EXCELLENT SANDABILITY
QUICK DRYING
The basecoat exhibits high build, quick drying, excellent clarity and sandability.
WHERE TO APPLY: wooden furniture and items in country style and musical instruments.
HOW TO APPLY: by brush/spray.
ON NEW WOOD: sand the wood with 150 sandpaper, then apply the basecoat (thinned at 30%- 40% with nitrocellulose thinner KK 3105) by brush or spray, in 1 or 2 coats (waiting 1-2 hours between each coat). Sand the last coat with 320 grit sandpaper (after 12 hours), then apply the matt topcoat NF 5030 or the gloss French polish topcoat NT 5000.
If you want to colour the wood, use the HC 33xx Waterbase Stain for Wood or HI 20xx Waterbased Wood stain before applying the Nitrocellulose basecoat NU 5020.
Package: 0,75 L Can – Before ordering the product, please check availability with your sales representative.

Drying time
Touch dry: 4 hours
Interval between coats: 4 hours
Final dry: 12 hours