Revitalizer for restoration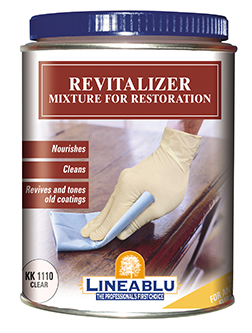 NOURISHES
CLEANS
REVIVES AND GIVES TONE TO OLD COATINGS
This product produces amazing and immediate results. It is designed for the maintenance and restoration of antiques and precious furniture. Don't apply on two pack-component coatings.
WHERE TO APPLY: antique and precious furniture and doors.
HOW TO APPLY: by cloth.
ON PREVIOUSLY COATED WOOD: it is ready to use, to revive any type of coating (provided it is not a glossy glazed topcoat). Six hours after application, the piece of furniture should be wiped with a clean cloth to make the surface even and remove any excess. Final drying time: 12-18 hours. If the furniture is very damaged, with deep scratches and cracks, sand lightly with a 400 grit sandpaper and carefully remove any dust before applying the KK 1110.
Package: 0,75 L Can – Before ordering the product, please check availability with your sales representative.

Drying time
Touch dry: 2 hours
Final dry: 12-18 hours