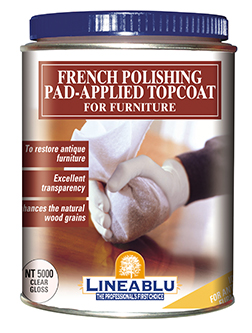 TO RESTORE ANTIQUE FURNITURE
EXCELLENT CLARITY
ENHANCES THE NATURAL WOOD
This glossy natural based-lac topcoat (100 gloss) is ideal for French polishing of stylish and bare furniture to obtain an old pad finish look. Don't apply on two pack-component coatings.
WHERE TO APPLY: antique furniture (for interior use only) and musical instruments.
HOW TO APPLY: by pad.
ON NEW WOOD: coat the items with the basecoat NU 5020 if required pre-stain with the HC 33** or HI 20** stain, then apply the French polish NT 5000, 50-100% thinned with ethyl alcohol 94∞. Wipe in small circles and dry the pad before moistening with more product, spread avoiding an even thickness. Leave to dry for 16 hours, then apply another coat as described above.
ON PREVIOUSLY COATED WOOD: for the maintenance of a French polished piece of furniture, sand with 400 grit sandpaper and remove any dust. Then see new wood.
Package: 0,75 L Can – Before ordering the product, please check availability with your sales representative.

Drying time
Touch dry: 8 hours
Interval between coats: 16 hours
Final dry: 24 hours
Coverage
750 ml = 10-15 mq