Waterbased sealer basecoat for furniture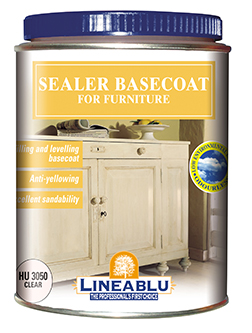 LEVELLING BASECOAT
NON-YELLOWING
EXCELLENT SANDING

Product awarded with the EU Ecolabel
The waterbased basecoat is suitable for all wooden items that require high build, it has excellent sandability with easy application.
HOW TO APPLY: by brush/spray.
ON NEW WOOD: HU 3050 (CLEAR) apply the basecoat on bare wood sanded with 150 grit sandpaper. For more coats, wait for 2 to 4 hours between each coat. Final drying time: 8 hours. Sand with 280-320 grit sandpaper then remove any dust and apply the topcoat (HM 3010, HM 3060 or HM 3090). If you want to colour the wood, use the HC 33** or HI 20** stain before applying the basecoat HU 3050.
HU 3051 (WHITE) sanding using 150 grit sandpapaer, than apply 1 or 2 coats of HU 3051. Waiting 2 hours before applying another second hand. After 8 hours you can overcoat the product with the coating for furniture HM 3061. Sanding before is recommended with 280-320 grit sandpaper. You can apply on MDF
PACKAGE: 0,75 L Can – Before ordering the product, please check availability with your sales representative.

Drying time
Touch dry: 1  hour
Interval between coats: 2 hours
Final dry: 8  hours
Coverage
750 ml = 9 mq ca

Tools
synthetic bristle brush/spray